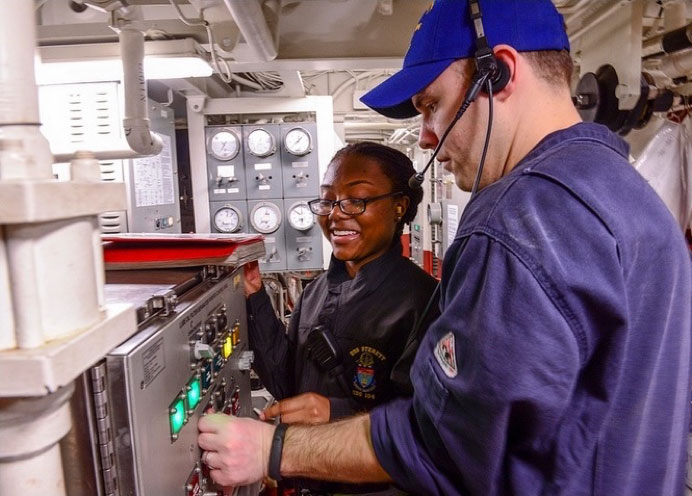 U.S. Navy, 2015
Mechanical engineering technologists and technicians provide technical support and services or may work independently in mechanical engineering fields such as the design, development, maintenance and testing of machines, manufacturing plants and equipment.
Work type:

Full-Time, Self-Employed

Most likely to work in:

Halifax, Cape Breton

Most employees have:

Non-university certificate or diploma

Certification:

TechNova - Right to title
What you do
In the oceans technology sector, mechanical engineering technicians and technologists play a key role in assisting engineersindesigningand developing innovative machinery and robotics for applications such as oceanography, meteorology, defence, search and rescue, fishing, marine transportation and offshore energy exploration and development.
A Mechanical Engineering Technician and Technologist performs some or all of the following duties:
Prepare and interpret conventional and computer-assisted design (CAD) engineering designs, drawings, and specifications for machines and components;
Prepare cost and material estimates, project schedules and reports;
Conduct tests and analyses of machines, components and materials to determine their performance, strength, response to stress and other characteristics; and
Design moulds, tools, dies, jigs and fixtures for use in manufacturing processes.
What you need
Enjoy technical work and mathematics, and have an interest in science;
Possess a high degree of manual dexterity and mechanical ability;
Able to be precise, analytical, and work alone or as part of a team;
Good oral and written communication skills are important;
Familiarity with computers is also required; and
Physical stamina may be required for field work.
Who's hiring in Nova Scotia?
References and further reading
* The employment outlook over the next few years for this occupational group is "fair", which indicates the changes of a qualified individual finding work is around average.
Your Career Pathway
Opportunities for Hands-on Experience
Secondary School

Co-op Options and Opportunities (Science Streams)
Oceans 11
Post-Secondary Educational Programs
Cape Breton University: Mechanical Engineering Technology
3 years, $2,000 / year

Nova Scotia Community College: Mechanical Engineering Technology
2 years, $3,130 / year
This program is accredited with the Canadian Technology Accreditation Board (CTAB), a standing committee of The Canadian Council of Technicians and Technologists (CCTT). Graduates may be eligible for membership with TechNova.
Graduate Programs
NSCC Oceans Technology Program

Advanced one year diploma for students with a Bachelor of Science or Engineering or an Engineering Diploma to further enhance skills in the oeceans technology sector.