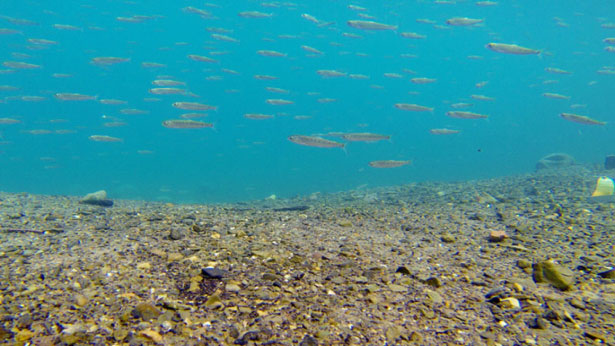 Ocean Tracking Network, 2015
This unit group is for geoscientists and oceanographers: Oceanographers conduct programs of exploration and research on ocean processes, biological, chemical and physical characteristics of oceans, and impacts of human activity on oceans and marine ecosystems.
Work type:

Full-Time, Self-Employed

Most likely to work in:

Halifax

Most employees have:

Post-Graduate Degree / Bachelor's Degree

Certification:

N/A
What you do
Oceanographers are responsible for studying the contents, boundaries and other aspects of climate system.
In the oceans technology sector, oceanographers conduct targeted research to provide advice and support to governments and/or industry on a broad range of ocean issues, including sovereignty, safety and security, safe and accessible waterways and the sustainable use of natural resources.
An Oceanographer performs some or all of the following duties:
Study physical properties of oceans to develop models, charts and computer simulations of tides, waves, currents and sediment transport;
Explore ocean floor and submarine geological structures; and
Conduct seismic surveys and study formation of ocean basins and other structures to map ocean floor and areas for offshore oil and gas exploration.
What you need
Enjoy being at sea;
Enjoy working with scientific data;
Have the ability to communicate and cooperate with others;
Possess a familiarity with computers;
You should be curious, adaptable, and patient; and
Physical stamina may be necessary for those doing fieldwork at sea.
References and further reading
* The employment outlook over the next few years for this occupational group is "fair", which indicates the changes of a qualified individual finding work is around average.
Your Career Pathway
Opportunities for Hands-on Experience
Secondary School

Co-op Options and Opportunities (Science Streams)
Oceans 11
Post-Secondary Educational Programs
University Bachelor's Degree

Dalhousie: Faculty of Science - Ocean Sciences
4 years, $8,000 / year

Acadia, Dalhousie, Saint Francis Xavier, Saint Mary's: Faculty of Science: Earth Science/Geology
4 years, $8,000 / year
Graduate Programs
NSCC Oceans Technology Program

Advanced one year diploma for students with a Bachelor of Science or Engineering or an Engineering Diploma to further enhance skills in the oeceans technology sector.
Masters Degree

Dalhousie: Faculty of Science - Graduate Studies in Ocean Sciences
2 years, $10,000 / year
Acadia, Dalhousie: Faculty of Science: Graduate Programs in Earth Science/Geology
2 years, $10,000 / year

Doctorate Degree

Dalhousie: Faculty of Science - Graduate Studies in Ocean Sciences
4 years, $10,000 / year
Acadia, Dalhousie: Faculty of Science: Graduate Programs in Earth Science/Geology
4 years, $10,000 / year