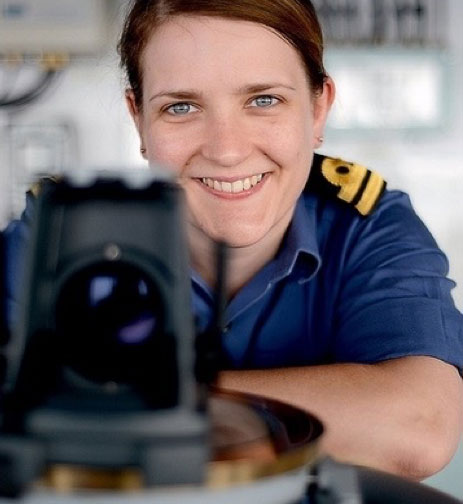 www.defenceimagery.mod.uk
This unit group is for engineering officer, water transport:   Ship's engineering officers operate and maintain engines, machinery and auxiliary equipment aboard ships and other self-propelled vessels and supervise and co-ordinate the activities of engine room crews.
Work type:

Full-Time

Most likely to work in:

Cape Breton, Halifax, South Shore

Most employees have:

Trades certificate or diploma

Certification:

A marine engineer officer certificate of competency issued by Transport Canada is required
What you do
In the oceans technology sector, ship's engineering officers are responsible for the overall operation and maintenance of the auxiliary equipment. These include the electrical generation, pumping and transfer, hydraulic, refrigeration and control systems.
A Ship's Engineering Officer performs some or all of the following duties:
Operate main engines, machinery and all auxiliary equipment aboard ships, such as boilers, steering and deck machinery, motors, pumps, generators and condensers;
Stand engine room watch, monitoring and noting performance of engines, machinery and all auxiliary equipment;
Inspect and conduct maintenance and emergency repairs to engines, machinery and all auxiliary equipment;
Supervise and co-ordinate the activities of the engine room crew; and
Maintain records and prepare reports on engine performance and failures. 
What you need
Enjoy being at sea;
A sense of responsibility and strong leadership qualities;
In good health and meet eyesight and colour vision requirements;
Possess excellent problem-solving and decision-making skills;
A mechanical aptitude is helpful;
The ability to think analytically and logically; and
The ability to communicate and cooperate with others, as officers usually work in teams.
Who's hiring in Nova Scotia?
References and further reading
* The employment outlook over the next few years for this occupational group is "fair", which indicates the changes of a qualified individual finding work is around average.
Your Career Pathway
Opportunities for Hands-on Experience
Secondary School

Co-op Options and Opportunities (Science Streams)
Oceans 11
Post-Secondary Educational Programs
Regulating Body:
Transport Canada's Marine Engineer Officer Certificate of Competency issued is required to practice this profession.
Graduate Programs
NSCC Oceans Technology Program

Advanced one year diploma for students with a Bachelor of Science or Engineering or an Engineering Diploma to further enhance skills in the oeceans technology sector.